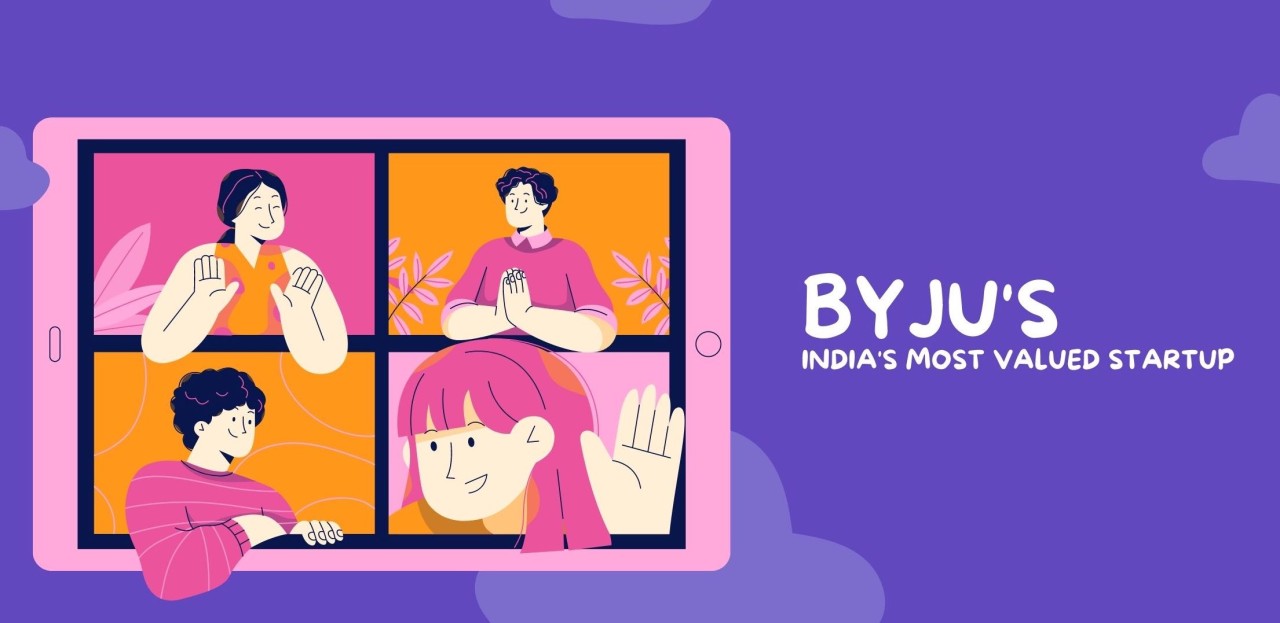 Decacorn Byju's - The EdTech Monarch
With USD 2.3Bn of funding till date, BYJU'S becomes India's most valued startup at USD 16.5Bn valuation. Yes, where the world is going through tough times, Raveendran is having a sail of the lifetime.
With schools and coaching centres been shut, parents were left with no option than to move towards online education. Byju's was ready with its infrastructure to grab the opportunity. It added 25Mn new students to its platform between March 2020 and November 2020. It stands strong now with 75Mn students including 4.2Mn annual paid subscribers. What could have taken couple of years to accomplish was achieved during the pandemic time.
There are only 20 Decacorn (Startup valued at USD 10Bn or more) in the world and Byju's is one among them. Isn't that amazing to see how a teacher pulled off a business venture of such stature.

"I was a teacher by choice and an entrepreneur by chance." 
— Byju Raveendran


This education company based out of Bengaluru, India absolutely commanding the EdTech space with revenue growth rate year on year of 183%. Investment rounds from finest Venture Capitalists climbing each other to get a pie of the company.
How it all Started?
Byju Raveendran was born into a family of teachers. His mother teaches physics while his father teaches math, both working in a medium-sized private school in Kerala, off of the western coast of India. Raised in Azhikode, a small, humble town of no more than 25,000 people, Byju lived a village life shared by 700M+ people across India.
A troublemaker at school, Byju speaks famously about using sports as a discipline to get him to focus in the classroom. His passion for table tennis, cricket, and soccer complimented his natural talent in science and math. Playing sports fueled him competitively, while science and math fueled his interest in pursuing an engineering degree.
One night, while tutoring his friends for their master's entrance exam to an MBA program, Byju took the exam just for fun to see what he could score. His first attempt? 100th percentile. Thinking it was a fluke, he attempted once again. Another 100th percentile score. A score others would have died for. Quickly he became popular and started tutoring students. Between 2006 to 2011, Byju's tutoring sessions went from 40 students to over 1,000 at crowded venues across metro cities like Pune, Mumbai, Bengaluru and Delhi.
Soon he was selling arenas for a test-prep class. He became so popular that students from across India started flying to attend his live sessions.
He then began broadcasting online classes to meet his demand. In 2011, Think and Learn (Byju's the learning app's parent name) was launched. Byju knew if he could scrap together the funds, he could create, package, and deliver the best educational content for students across India.
Funding and Growth
Current round of USD 340Mn gave 2.7X jump to company's valuation from last round of USD 6Bn in 2019.
Byju's investors include Tencent Holdings, Sequoia Capital, Qatar Investment Authority, Chan-Zuckerberg Initiative, Owl Ventures, UBS group among others who are riding this money making decacorn.
Byju's has brought Ed-Tech to a whole new level. It's on acquisition spree to grow inorganically and consolidate the market. It's acquisitions of WhiteHat Jr and Aakash Educational Services Limited are just the start. We may soon hear about Toppr adding to its portfolio.
Byju's is now the highest valued edtech Startup in the world followed by Chinese company Yuanfudao which was last valued at USD 15.5Bn as of December 2020.
My Lens
India's education industry is unorganised and require companies like Byju's to bring technology and advancements to benefit our education infrastructure. There is nothing which can stop success of Byju's at this point. It's trajectory have surprised everyone whether they are Investors, Business Pandits and Parents.
On parallel side I don't admire Byju's aggressive marketing strategies which is leaving Parents in FOMO. There is no secret about tactics used by sales people at Byju's. Such approach should be avoided by any company which is dealing with future brains.
Byju's pricing methodology is again questionable which is only making education costlier (which is not an ideal case for country like India).
I am still waiting for any solid initiative (not so impressed by Byju's Give Initiative) from Byju's which shall help underprivileged children to get quality education.
But above all, I admire what Byju's have achieved. At least it opened up eyes of investors who always saw education industry a tough area to make money.
Published by:
Vijay Singh Rathore
Founding Partner - Nucleus Advisors | CEO- CanQbate | Startup Investment Banker