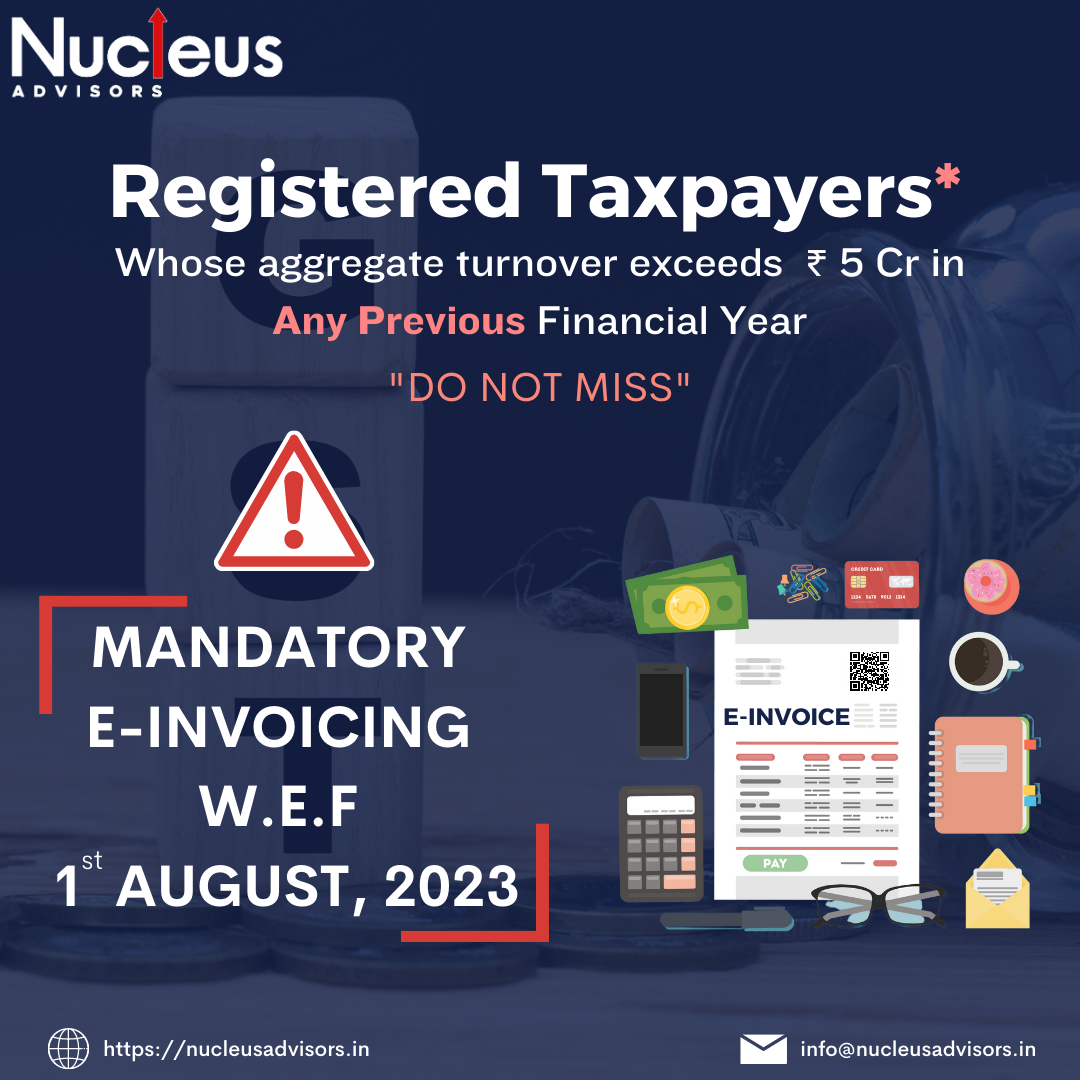 Registered Taxpayers Aug, 2023 Update
Latest Update on applicability of E-Invoicing from August 01, 2023:
As per Notification no. 10/2023 dated May 10, 2023, every registered taxable person whose aggregate annual turnover exceeds Rs. 5 Cr in any of the financial years from 2017-18 shall be liable to issue e-invoices, implementing from August 01, 2023. Earlier, the limit was Rs. 10 Cr.
E-Invoicing is applicable to invoices, debit notes, and credit notes issued to registered persons (commonly known as B2B supplies). It is not applicable to B2C invoices as of now. The registered person who is required to issue e-invoice shall upload its tax invoice in a JSON file on the Invoice Registration Portal (IRP) and shall get back a digitally signed JSON from IRP with an Invoice Reference Number (IRN) and QR Code. As per rule 48(5) of CGST Rules, any invoice on which the provision of e-invoice is applicable and which does not contain IRN shall not be treated as an e-invoice, as specified in rule 48(4) of the said rules.
E-invoicing enablement status of a taxpayer can be checked by entering the GSTIN using the following link: https://einvoice1.gst.gov.in/Others/TaxpayerSearch
However, some notified persons are exempt from e-invoicing as follows:
An insurance company, a banking company as well as financial institutions.
A Non-banking Finance Company (NBFC).
A Goods Transport Agency (GTA).
A registered taxpayer providing passenger transportation services.
A registered person rendering services of admission to the exhibition of cinematographic films in multiplex services.
A Special Economic Zone (SEZ) unit.
A government department, a local authority
The above-notified persons have no need to issue e-invoices even if their turnover exceeds the prescribed threshold limit.
Hey, it's Vanshika Gupta, a CA Finalist, who has graduated from Dr. Bhim Rao Ambedkar College, University of Delhi(DU). Working as an Associate II at Nucleus Advisors, I am passionate about indirect taxation and have experience in it. You can reach me at Vanshika.gupta@nucleusadvisors.in or connect on LinkedIn: Click here